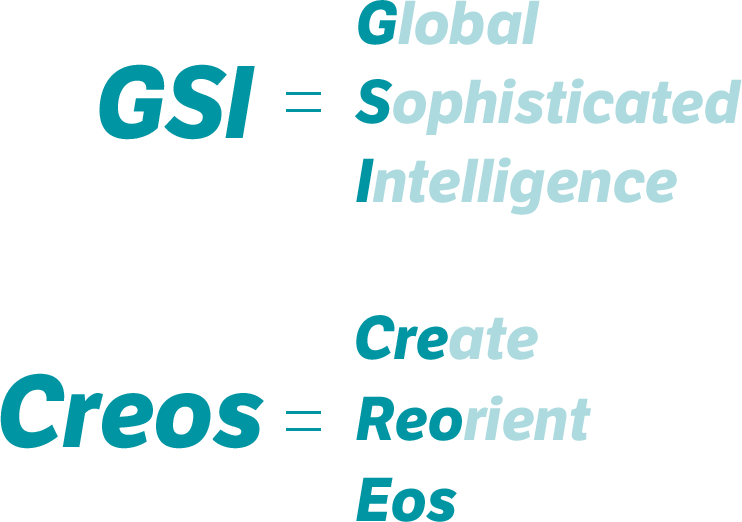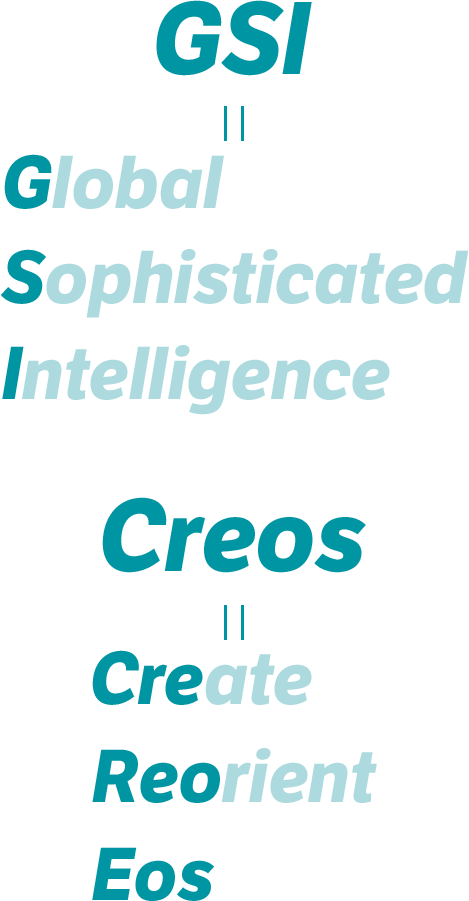 GSI Creos is a combination of Cre=Create, Reo=Reorient and Eos=the Greek goddess of dawn. Just as Eos delivers the light of dawn, our global and professional workforce delivers new products and services to make dreams come true. This is the essence of the name, Creos.
Our corporate mission is to discover new value and crystallize it into value for society. As a business producer that pursues lifestyle quality for the times, we create original, first-rate services compatible with the public good, and work to realize the happiness of all those who create value with GSI Creos.
Through the P-C-V cycle, we execute a speedy, virtuous cycle of management.
How will we set about achieving our goals... Our action plan can be graphically represented as shown in the following P-C-V Cycle. This cycle consists of three key elements
P: Professional people
C: Collaboration with stakeholders
V: Value creation
We believe that the accumulation of the three key elements that comprise our P-C-V Cycle is the key to achieving a speedy, virtuous cycle of management.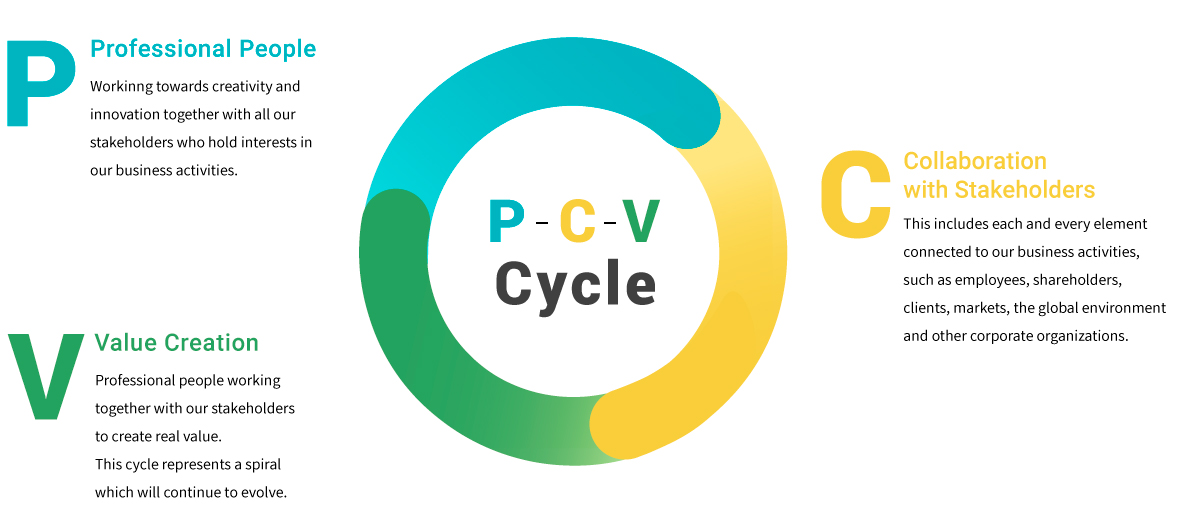 At GSI Creos, human capital is the source for creation of corporate value.
We invest generously in developing the professionals who create together with GSI Creos. We also conduct management in a way that enables all employees to take pleasure and pride in their work in proportion to their motivation and the ability they display, while also participating in the creation of corporate value.
Shareholders are a pillar of GSI Creos's ongoing growth and development.
We believe that our greatest contribution to shareholders is maintaining continuous, stable growth in corporate value. We therefore concentrate fully on business activities that contribute to increasing corporate value, and practice open, interactive management toward shareholders.
At GSI Creos, our business associates are partners who grow with us.
We practice creative management that fosters mutual growth by seeking the best partners while also continuing on our side to satisfy the conditions necessary to be chosen, and maintaining equal relationships based on market rationality.
GSI Creos's market consists of consumers who share our values.
Based on these values, we seek out the best resources from around the world, take on the challenge of developing businesses, create expectations among consumers, and manage the company to meet those expectations.
Protection of the environment shows our respect toward the places in which we live.
We deal with environmental protection as part of our business activities, and participate in Environmental Activities with as many people and organizations as possible.
At GSI Creos, we view the company organization as a tool for gathering and maximizing the potential of the sensibilities and intelligence of individuals. By clarifying individual roles and responsibility for results, and delegating authority to create a strong, self-determining organization, we enable judgments directly linked to the market and speedy decision-making, and management that responds dynamically to market changes.
We strive to be professionals who practice the P-C-V cycle.
A professional is someone who:
Knows that accumulation of fundamentals is the source of creativity.
Takes on challenges with pride, and has the will and determination to see them through to success.
Creates his or her own role, and takes responsibility for results.
Carries out innovation with the intelligence to create and the courage to discard.
Achieves personal growth by cultivating his or her successors.
Treats everyone fairly, and acts according to law and reason.
Enjoys working with colleagues in any situation.